Trump: 'This is the Time' to Buy a House Read more: Trump: 'This is the Time' to Buy a House
Posted by Cathy Hunnicutt on Wednesday, August 1, 2012 at 8:29 AM
By Cathy Hunnicutt / August 1, 2012
Comment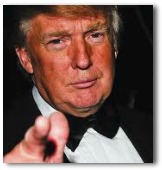 Tuesday, 31 Jul 2012 08:41 AM
By Forrest Jones
The housing market offers tremendous opportunities, and investors should buy homes right now, especially if they qualify for financing, said real-estate mogul Donald Trump.
"There's amazing opportunity to do things, and one of those opportunities is certain types of real estate, including houses," Trump told CNBC.
Some opportunities have even passed.
"There are certain areas that it's too late — Miami, certain parts of New York. There are places where the market is better than it's ever been," Trump said.
"Miami is the greatest example of it. Miami is through the roof, and you know, two years ago, you couldn't give away apartments in Miami," he said. "It's a little bit of an outside influence because South America, whether it's Brazil or Argentina, Venezuela — they're all pouring into Miami."
As a country, however, the United States harbors great opportunities in real estate.
"Especially if you're somebody looking to buy a house and it's going to start to go up, and I always tell people, 'This is the time,'" Trump said.
Qualified buyers can find housing at attractive terms these days.
"The banks do not want these houses, and you can make unbelievable deals and I tell everybody that has a mind, go out now, buy a house. Ideally buy it from a bank," Trump said.
Groundbreaking on new homes has started to show signs of life in the United States.
U.S. housing starts jumped 6.9 percent in June to a seasonally adjusted annual rate of 760,000 units, a near four-year high, according to the Commerce Department.
Meanwhile, the Mortgage Bankers Association said recently that applications for U.S. home mortgages are on the rise as well.
"Housing continues to be the one sector of the U.S. economy that is outperforming expectations," said Michael Gapen, an economist at Barclays in New York, according to Reuters.