Top Things to Do in Mt. Pleasant, SC | Vacation Activities
Posted by Cathy Hunnicutt on Monday, April 20, 2015 at 9:32 PM
By Cathy Hunnicutt / April 20, 2015
Comment
Top 10 Things To Do In Mount Pleasant
For those considering a move to Mount Pleasant, the community is ready to welcome new residents with open arms. With beautiful Mount Pleasant, SC homes for sale and the classic Lowcountry charm, this area is appealing for a number of reasons. As you plan your move or visit to Mount Pleasant, be sure to schedule time to visit these top attractions: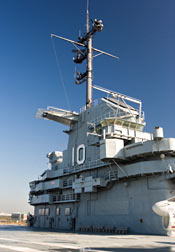 1. Patriot's Point Naval and Maritime Museum
See historic ships from U.S. Naval history at the Patriots Point Naval and Maritime Museum, which is home to the USS Yorktown, among other vessels. In addition to touring the ships, visitors can pay homage to Americans who sacrificed their lives in naval battles throughout history — see "The Fighting Lady" in the Smokey Stover Theater or experience a flight simulator in the Shipyard Museum.
2. Visit Shem Creek Park
Especially beautiful at sunset, Shem Creek Park sits on Charleston Harbor, one of the most picturesque waterways in the Lowcountry. Take a walk along the boardwalk to explore the marsh, eat in one of the restaurants or experience the area's nightlife.
3. Boone Hall Plantation
Since 1956, the picturesque Boone Hall Plantation has been welcoming visitors to one of America's oldest working, living plantations. Actively producing strawberries, tomatoes and pumpkins, the plantation has U-Pick fields, a market and historic buildings to tour.
4. Splash Island Water Park
If you are moving to Mount Pleasant with kids, you will want to explore the Splash Mountain Water Park, located within Palmetto Islands County Park. With water park offerings for everyone from toddlers to teens, the water park offers hours of family fun and a chance to beat the South Carolina heat.

5. Sailing Classes

Because of its waterfront location, Mount Pleasant draws many people looking to enjoy water-based activities. The Ocean Sailing Academy offers private sailing classes for anyone wanting to learn how to sail, as well as private charters for those who simply want to enjoy some time on the water.

6. Crabpot Players Theater

No need to head into the city to enjoy live theater, the Crabpot Players Theater offers live performances of Broadway and off-Broadway plays and musicals throughout the year.

7. Cinebarre

Cinebarre combines a fine dining experience with a movie theater, so you can enjoy a dinner date and film all in one location. The experience is geared toward adults, offering a nice selection of alcoholic beverages to accompany meals, which are served during the movie.

8. Mount Pleasant Farmers Market

The Mount Pleasant Farmers Market provides area residents the chance to purchase fresh, locally grown produce and fresh-caught seafood. The Farmers Market is held on Tuesdays at 3:30 p.m. at Moultrie Middle School.

9. Picket Park and Pitt Street Bridge

Once the only connection between Mount Pleasant and the beaches, part of the Pitt Street Bridge still stands today and offers a lovely place to walk and see the waterfront. At sunset, the Pitt Street Bridge offers some of the best views of the Harbor. It's also an excellent location to do some bird watching, or enjoy the original bridge, now used as a fishing pier.

10. Pitt Street Pharmacy

With an old-fashioned soda fountain, the Pitt Street Pharmacy perfectly captures the old-fashioned charm that draws so many to Mount Pleasant. Pitt Street Pharmacy still functions as a full-service pharmacy as well as a soda fountain.

If you find these attractions appealing, then it may be time to start shopping for homes in Mount Pleasant, SC. The Ed Hunnicutt Team is ready to help you fall in love with Mount Pleasant and all that the stunning region has to offer, including the stately, beautiful homes of the area. Sign up today to start your search for the ideal home.