Sharon Spence Lieb recommends Magnolia Plantation!
Posted by Cathy Hunnicutt on Tuesday, June 28, 2011 at 2:35 PM
By Cathy Hunnicutt / June 28, 2011
Comment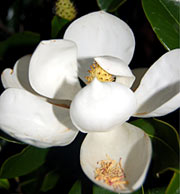 Magnolia Plantation picked as great place to hike
Staff Report
Published June 28, 2011
When USA Today asked travel experts from around the nation for recommendations for its 51 Great Places to Hike feature, Mount Pleasant travel writer Sharon Spence Lieb recommended Magnolia Plantation and Gardens.
The editors agreed with her, and published it on its list Friday. (See all 51 Great Places to Hike, along with an embedded Google map.) Using Lieb's description, the publication said that the Lowcountry plantation might not be the typical hike, but, as she noted, the location offers boardwalks that meander through "eerie cypress swamps teeming with gators" and gardens of azaleas and other plants.
"But Magnolia Plantation & Gardens is a journey through South Carolina history in a heavenly setting," Lieb wrote. "Photograph colossal ivory magnolia blossoms on towering trees. Stroll over the red bridge and watch great blue herons gliding like ballerinas. Amble along the serene Ashley River listening to Civil War tales."