Getting Closer to a Healthy Balance Market in Charleston!
Posted by Cathy Hunnicutt on Wednesday, May 16, 2012 at 7:30 PM
By Cathy Hunnicutt / May 16, 2012
Comment
This chart shows the relative strengths of the different MLS areas in Charleston, based on the number of sales during
Jan-Apr 2012 compared to the number of actives on 5/14/2012. This ratio is of course directly related to the
simple months of inventory number. 6 months of inventory is considered a healthy, balanced market.
This chart includes single family detached, single family attached, and mobile homes.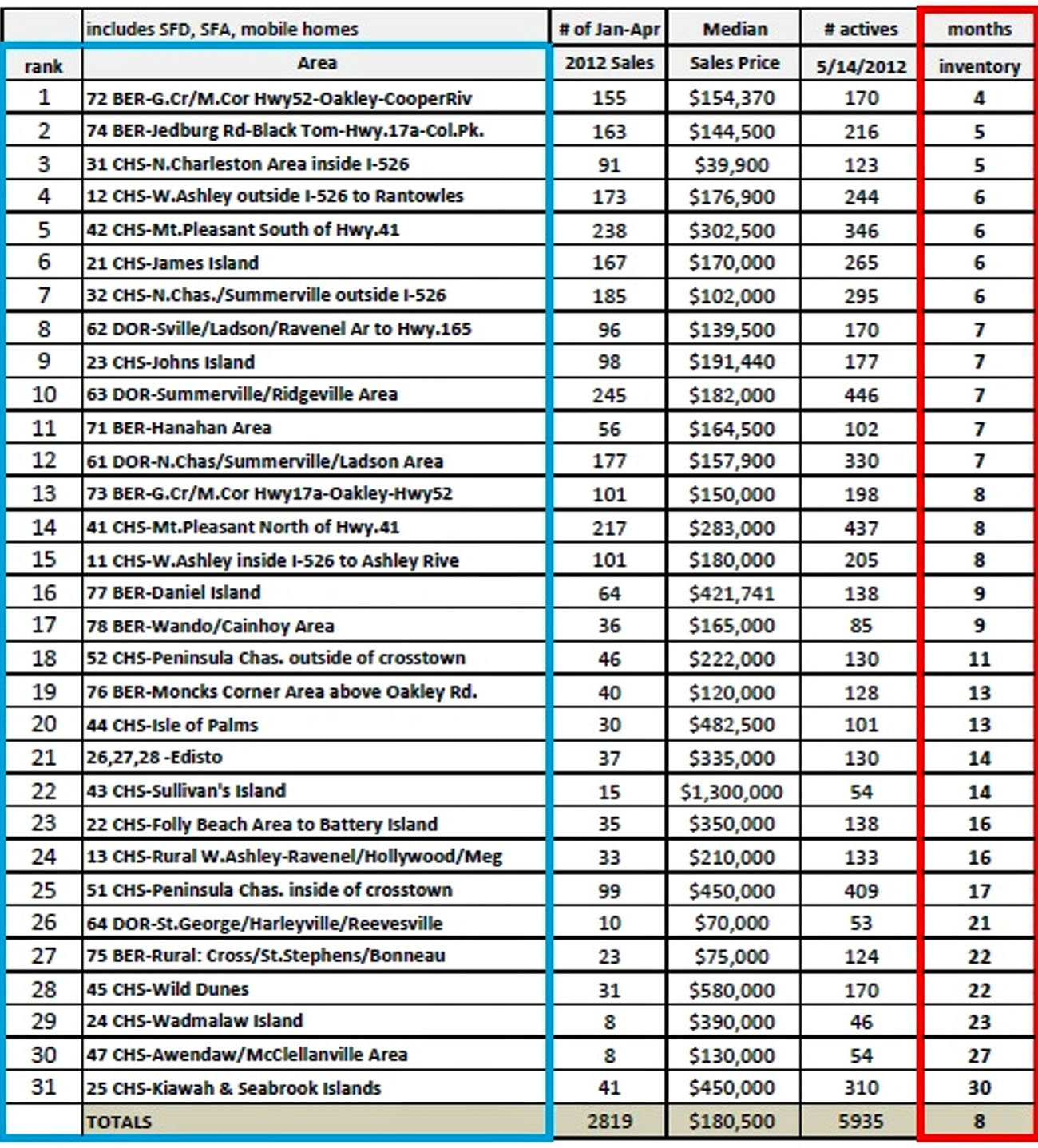 This chart is our Charleston months of inventory report. It is exciting that we currently have about 5,935
homes for sale actively listed compared to 10,000 actively listed homes for sale for the last 4 years.
Everything in business and home sales is related to supply and demand. Supply and demand controls
price and when you have too much supply and not enough demand your price is going to suffer and that
is what we have seen for the past few years. Our supply has decreased and our demand has gone up and
at some point in the future that will affect price! The standard that we go by for months of inventory is
6 months is a Healthy Balanced market. We probably can't see price go back up until we see our inventory
go down more into the 6 months range and right now we are at 8 months which is a big improvement from
where we were but it is still too much. The supply column is the # Actives and that is the active number of
listings in each mls area. The demand is the # of Jan-Apr 2012 Sales column and these are the numbers
that help us to calculate the number of months inventory. That is how many months it would take to sell
what you currently have active, based on the number of sales you have had over a certain amount of time.