DIG South in Charleston
Posted by Cathy Hunnicutt on Tuesday, April 25, 2017 at 8:54 PM
By Cathy Hunnicutt / April 25, 2017
Comment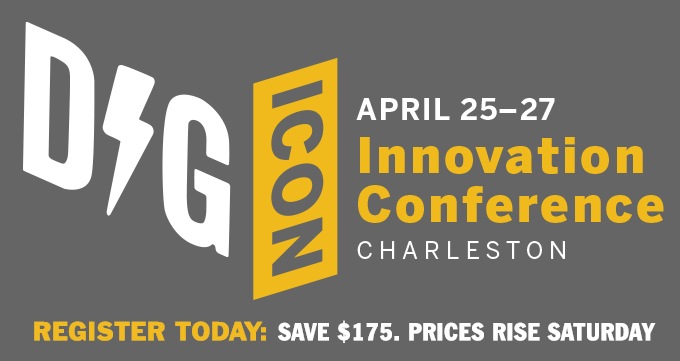 It's an awesome week for technology and business in The Silicone Harbor, as Charleston hosts DIG Icon. Now in its 5th year, DIG Innovation Conference (ICON) is where leading brands, such as Vox Media, Facebook, Buzzfeed, CNN and Boeing, meet the smartest, scalable startups. It's a summit for the best of the best – the companies at the bleeding edge of the digital economy. Produced by DIG SOUTH Media and held annually in Charleston, DIG ICON welcomes 2000+ attendees, 100+ executive-level speakers and 100+ top investors.
Over the last four years, DIG ICON has welcomed more than 5000 attendees and 800 speakers from the world's leading brands, including Facebook, Google, BuzzFeed, IBM, Boeing, Twitter, The New York Times, Adobe, Kickstarter, VaynerMedia, Inc, Fast Company and hundreds more. DIG ICON also welcomes the South's leading companies including Blackbaud, Red Hat, Benefitfocus, CNN, Coca-Cola, BoomTown, Dixon Hughes Goodman, SPARC, PeopleMatter and many more.
Couldn't attend, but would love to meet some of the talent in town, pop over to George St. Wednesday from 11-1 where attendees will be enjoying Lowcountry cuisine at a Food Truck Rodeo.