Charleston Qwiki
Posted by Cathy Hunnicutt on Thursday, March 31, 2011 at 2:53 PM
By Cathy Hunnicutt / March 31, 2011
Comment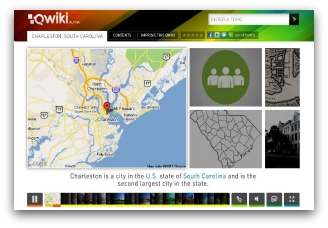 Qwiki's goal is to forever improve the way people experience information.
"Whether you're planning a vacation on the web, evaluating restaurants on your phone, or helping with homework in front of the family Google TV, Qwiki is working to deliver information in a format that's quintessentially human – via storytelling instead of search...
Think of asking your favorite teacher about Leonardo Da Vinci, or your most well-traveled friend about Buenos Aires: this is the experience Qwiki will eventually deliver, on demand, wherever you are in the world… on whatever device you're using."
Click on the picture and watch Charleston on Qwiki