Charleston: Life on Vacation
Posted by Cathy Hunnicutt on Monday, April 3, 2017 at 12:28 PM
By Cathy Hunnicutt / April 3, 2017
Comment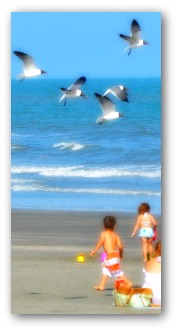 Once upon a time, Charleston was the South's "Best kept secret." Many had heard of the charming, historic city, but it had yet to gain so much national and international attention. Our peninsula, and the surrounding area, truly are a slice of heaven that we are happy to share with the world, yet we are still often asked the question "Why move to Charleston."
The best answer? Our quality of life is unmatched. We see so many people coming to Charleston, pre-retirement age, wanting this to be their forever home. The pace, the people, the weather, the food, the general sense of contentment that is so hard to find in most cities. When you have spent years or even decades living in Charleston, sometimes it takes leaving town to remember how lucky you are.
After a recent trip to Florida to take our toddler to Disney World, my appreciation of home was refreshed. We were in vacation land - a beautiful resort, great pools, 80 degree weather, all amidst the most magical place on earth. As we sat in traffic each day, to only drive a few miles, or put a towel on the pool chair at 6am to ensure a spot in the afternoon, or pushed through crowds with a stroller just trying to get a peek of the main attraction, I found myself longing for home.
"Staycation" is the most popular vacation for Charleston residents. We have neighborhoods with olympic size pools that never feel overly crowded. A beach of your choice is only 15 minutes away from most locations, and parking is free….and so is public beach access! You can't be disappointed by a meal out, but are equally satisfied when you stop by one of the many fish markets and bring home the fresh catch of the day. We have homes with screened porches and gorgeous views to enjoy outdoor living throughout the year. Our fur babies are welcome almost everywhere we go, and there are so many events each weekend, that it is difficult to decide where to spend our time.
Despite the fried-everything southern cuisine that is oh-so-scrumptious, we live in an extremely healthy city. With our climate, and the countless parks, bridges and water view trails, exercise is a part of our daily life, and feels less like a chore.
What pulls it all together is the ability to actually enjoy where we live. The culture of the lowcounty has a heavy emphasis on work-life balance, and many local companies have adapted to a more laid-back work environment. Dubbed "The Silicone Harbor" countless software companies have brought both opportunity and a energy to our economy. Its common to see people out riding beach cruisers on their lunch break, or having walking meetings. And if an end of day meeting is needed, don't be surprised to see it scheduled over a rooftop happy hour.
No matter where you live, your commute will likely include a drive over a beautiful bridge, and you will find yourself rolling down your windows just to breath in the salt air and smell the pluff mud that we learn to love.
You can travel to the mountains of North Carolina in a weekend, or over the pond for a 10 day tour of Europe. Traveling will always be wonderful, but when you live in the lowcountry, its not so bad to come home.
This isn't vacation, its life in Charleston, and it's amazing.