Calling All Cyclists and Spinners!
Posted by Cathy Hunnicutt on Wednesday, August 24, 2011 at 2:57 PM
By Cathy Hunnicutt / August 24, 2011
Comment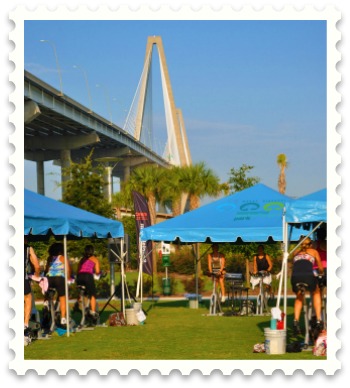 Registration Now Open for Bridge Ride Benefiting ECCO Dental Clinic
Fundraiser Helps Provide Free Dental Services to Tri-County Residents
Mt. Pleasant, S.C. – The Bridge Ride, a local outdoor cycling ride and spinning event benefiting the East Cooper Community Outreach (ECCO) Dental Clinic and co-hosted by the East Shore Athletic Club, is now accepting registrants for its Saturday, Sept. 17, event at the Mount Pleasant Memorial Waterfront Park.
As part of the event, Bridge Ride participants can choose to take part in an approximate 70-mile outdoor cycling portion (begins and ends at the park,) two 90-minute spin-a-thons, or an on-site CX30 session. To Donate: Click Here!
To register for the event, visit Active.com. Registration fee for the cycling and spinning portion of the event is $50; the boot camp class is free. Participants will have the opportunity to compete for prizes.
Funds raised from the Bridge Ride will help the ECCO Dental Clinic continue to provide free dental services to in-need residents in the Cooper River and Santee Basin areas, as well as the counties of Berkeley, Charleston and Dorchester.
Schedule of Events
| | |
| --- | --- |
| Activity | Time |
| Approximate 70-Mile Outdoor Cycling Event | Starts promptly at 6:30 a.m. |
| First 90-Minute Spin-a-thon | 8 – 9:30 a.m. |
| CX30 Class | 9:30 – 10 a.m. |
| Second 90-Minute Spin-a-thon | 10 – 11:30 a.m. |
The Bridge Ride also includes a performance by local band favorite Fat Alice from 8 a.m. to noon, as well as vendors offering food and drink, cycling and athletic equipment.
Sponsors of the event include the East Shore Athletic Club, The Hunnicutt Real Estate Team, Piggly Wiggly, Clear Channel, Moultrie News, Carolina One Real Estate, Minuteman Press, BenefitFocus, Westbrook Brewing Company,Dick and suzanne Query and Nucor.
Twitter followers can support the event by using the hash tag #BridgeRide.
Learn more about ECCO community events and news on Facebook and Twitter.
About East Cooper Community Outreach
Established in 1989, East Cooper Community Outreach (ECCO) is an ecumenical organization dedicated to helping its neighbors in need and providing emergency disaster relief. ECCO serves residents mainly in the area east of the Cooper River and south of the Santee Basin, as well as the entire tri-county area (Berkeley, Charleston and Dorchester) through cooperation with other organizations and agencies. ECCO provides emergency assistance for food, clothing, household furnishings and financial needs. It also provides the following ongoing services, including medical, dental, prescription drug assistance, education and counseling. All programs and services strive to guide clients toward self sufficiency. ECCO's ministry of "Helping Neighbors Help Themselves" attempts to improve the quality of life in the community in a compassionate way that respects the dignity and worth of every person.