Best Historical Sites in Charleston
Posted by Cathy Hunnicutt on Friday, June 23, 2017 at 6:00 PM
By Cathy Hunnicutt / June 23, 2017
Comment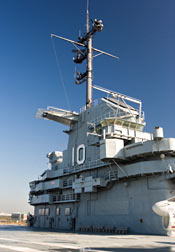 In honor of America's 241st birthday, we thought we would share just a few of Charleston's rich, deep-rooted historical sites. We are more than southern charm, delicious food and beautiful beaches. Charleston is also home to some of our country's most important pieces of history.
Did you know that The Civil War actually began in Charleston? It was April 12, 1861 when Confederate artillery opened fire on Federal Fort Sumter. A lovely boat ride to Fort Sumter will tell you all about our city's role in arguably the most important war in US history. And a stroll around Battery Park features cannon replicas, and the most amazing views of the fort and the Charleston Harbor - right out to the ocean. Folks stroll the Battery, along the seawall, mainly for the spectacular views, but next time you are there, take a moment to imagine the history all around you.
The USS Yorktown is one of the iconic sites in Charleston, located at Mount Pleasant's Patriot's Point. It was built during WWII and named for the Battle of Yorktown during the Revolutionary War. She earned 11 battle stars in WWII and 5 in the Vietnam War. The ship was brought to the Charleston Harbor in 1975 and declared a national historic landmark. Tours are given daily, and the ship often hosts events, including the Fourth of July fireworks show each year.
Sullivan's Island is home to Fort Moultrie, which dates back to the Revolutionary War. Today it may just look like part of the island, but this strong fort protected our coast for decades. During the first attack in the Revolutionary War, the fort was not even completed when it held off British ships for 9 hours, forcing them to retreat. On your next trip to Sullivan's Island, take a stroll down to Fort Moultrie. The history there is sure to amaze.
Charleston is home to many beautiful plantations, including Boone Hall, the oldest working plantation in the country. Still active today, the plantation produces fresh crops and local delights year-round. It also serves the Lowcountry as an event venue, hosting everything from weddings to the Southern Living Food Festival and the world's largest oyster roast. A tour through the plantation home, and a carriage ride across the grounds paints an amazing picture of Charleston through the years, and the role Boone Hall played in her rich history.
These are just a few of our favorite spots. There are many others, so this Independence Day, plan some time to enjoy the history of the Lowcountry and try to take in the impact our city has had on this great nation.
Happy 4th of July, Y'all!