4th of July Weekend Events!
Posted by Cathy Hunnicutt on Friday, June 24, 2011 at 12:59 PM
By Cathy Hunnicutt / June 24, 2011
Comment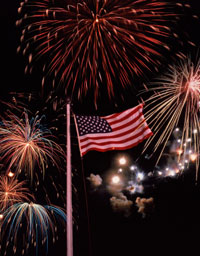 Celebrate 4th of July Weekend at Middleton Place!
Location: Middleton Place
Address: 4300 Ashley River Road Charleston, SC 29414
Phone: 843.556.6020
Web Site: http://middletonplace.org
-Celebration at the home of Arthur Middleton, a signer of the Declaration of Independence. South Carolina residents will receive ½ off admission with a valid driver's license. July 2nd and 3rd.
Location: The Tides - Folly Beach
Address: 1 Center St. Folly Beach, SC 29439
Web Site: http://www.follybeach.com/
-Spend the day on the beach with fireworks over the water at night. July 4th.
Location: Front Beach - Isle of Palms
Address: Isle of Palms, SC
Phone: 843.886.6428
Web Site: http://www.iop.net/
-Fireworks on front beach at 9:30pm. July 4th.
Summerville's Red, White and Blue on the Green
Location: Hutchinson Square
Phone: 843.821.7260
Web Site: http://www.summervilledream.org
-Games, face-painting, jump castles and a watermelon-eating contest. July 3rd and 4th.
North Charleston 4th of July Festival
Location: Riverfront Park
Address: Hobson Avenue North Charleston, SC 29405
Web Site: http://www.northcharleston.org/visitors/recreation/outdoors/parks/riverfrontpark.aspx
-A day full of music and activities ending with a firework show. July 4th, 3-9pm.
RiverDogs Baseball and Fireworks
Location: Joseph P Riley, Jr. Park
Address: 360 Fishburne Street Charleston, SC 29403
Phone: 843.723.7241
Web Site: http://web.minorleaguebaseball.com/index.jsp?sid=t233
-Gates open at 5:30pm. Game starts at 6:35pm. July 4th.
South Carolina Aquarium 4th of July Celebration
Location: South Carolina Aquarium
Address: 100 Aquarium Wharf
Phone: 843-577-FISH
Web Site: http://scaquarium.org/Visit/calendar.aspx
-Bar-B-Q, 4-D theatre viewing, face painting, music, and fireworks. Begins at 7pm. July 4th.
Patriots Point 4th of July Blast
Location: Patriots Point
Address: 40 Patriots Point Rd.
Phone: 866-831-1720
Web Site: http://www.patriotspoint.org
-Food, drinks, and fireworks beginning at 5pm. July 4th.
Uncle Sam Jam with Permanent Vacation
Location: Mount Pleasant Pier
Address: 9 Harry Hallman Jr. Blvd, Mount Pleasant, SC 29464
Web Site: http://www.ccprc.com
-Dance at the foot of the Mount Pleasant Pier to music by Permanent Vacation. Fireworks and beverages. 7-11pm. July 4th.
An American Celebration: The 4th of July
Location: Woodlands Inn
Address: 125 Parsons Rd. Summerville, SC 29483
Phone: 843.875.2600
Web Site: http://woodlandsinn.com
-Food, beverages, local music, and fireworks. Face painting, balloon artists, jump castles and family games for the children.
4-8:30pm. July 4th.
I'On Village Issues Invitation to 4th of July CelebratI'On with Band Blast 2011
Location: Westlake Amphitheater in the I'On neighborhood
Address: Off Mathis Ferry Road in Mt. Pleasant
Phone: 843.343.8412
Web Site: http://iontrust.org
-Outdoor concert with food, beverages, and activities. 9:30am-9pm. July 4th.
6th Annual Sizzling Southern Celebration
Location: Circa 1886 and the Wentworth Mansion
Address: 149 Wentworth Street Charleston, SC 29401
Phone: (843) 853-78
Web Site: http://circa1886.com
-Live jazz, food, fireworks. 7:30pm. July 4th.